JUNE 2017 NEWSLETTER AND UPCOMING SCHEDULE
The 2017 Major League Baseball draft begins today.  For Huntington Beach High School players Hagen Danner and Nick Pratto, I will be looking forward to seeing their names at the top of the list this afternoon.  I'm sure their days will be steaming with excitement!  
The Major League Draft, like all other drafts that occur (Little League, Pony, etc.) will select the best of the best players who show the best of the "5 tool" skills:  Hitting for Power, Hitting for Average, Speed, Arm Strength and Fielding Ability.  Players who are selected may show 2-3 of these skills very well, while others that become superstars in the Majors, might possess 3-4 of these skills.  Players may also be chosen based on pure physicality, that is, they are born with size, height, strength, etc, and the organization will try and help develop tools from their athletic ability.
In any case, players who get picked up in the draft do so because of the massive amount of not only TALENT, but the HARD WORK players put in each day to make themselves better for themselves and ultimately the team;  For the love of the game, the drive to be the best and their willingness to outdo their competition, daily.
What does this mean for defining our goals?  Put simply, 5 tool players spend time working on getting better daily.  I always tell my players, "I played different sports, but I only trained for one!"  Cage time, throwing in the front yard or park, whiffle ball with the neighborhood kids are all great acvities that can help fine tune your abilities day after day.  For me, if I wasn't in season, that meant playing with my next door neighbors, little brother, and finally on weekends with my dad.
My goal for all of you this summer is for you to inject some form of baseball training into each and every day, however fun or disciplined.  Watch the game on TV, listen to announcers break down plays, replays, etc.  My job as an instructor is to bridge the gap between learning and consistent execution.  So much of that bridge can be built in learning to love taking a little piece of baseball everyday and getting better from it.
FORMER L.A. DODGER JUSTIN SELLERS

WILL BE INSTRUCTING AT LIFELETICS SUMMER CAMP
LIFELETICS SUMMER CAMP REGISTRATIONS STILL UNDERWAY!
Lifeletics outdoor camps feature the best individual and team training in the area.  Weeks are progressive and teach players not only how to play the game, but how to train to be better day by day.  Field camps include drills, competitive games and preaches positive motivation and leadership qualities every player should have!
CLICK ON THE CAMP TO REGISTER!
July 10-14th – Wardlow Park (HVLL) Magnolia and Yorktown
July 17-21st – Wardlow Park (HVLL) Magnolia and Yorktown
July 24-28th – TBD
July 31- Aug 4th – TBD
Aug 7-11th – Marina Park (HWLL) Edinger and Graham
Aug 14-18th – Marina Park (HWLL) Edinger and Graham
Skills Class Mondays and Tuesdays
Join Coaches Ruben Corral, Joe Terry and Brandon Davis every Monday and Tuesdays for hitting, fielding and pitching Skills classes at 3-4pm and 4-5pm.  Call the front desk to find out more information about joining our Baseball Skills Classes at Lifeletics!
This coming week:
Monday:  Coach Joe and Brandon work on recognizing inside and outside pitches using tee work, soft toss, and live pitching.  Then learn catch and tag plays at the bases and diving plays with our diving mats.  Teaching the proper way to hit and field at Lifeletics!

Tuesday:  On Tuesday, Coaches Ruben and Brandon work on pitching balance and throwing harder and more accurate using major league drills.  Also, players will get live hitting drills and repetitions.
Make sure you register by calling 714-843-1989 and get better today!
B.E.A.S.T. Strength and Agility Training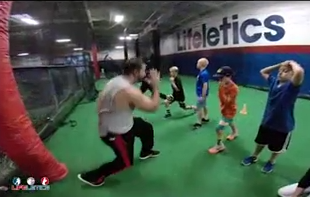 The BEAST program is now into recovery and building phase.  Trainers are introducing new workout programs to increase the strength, speed and ultimately power for our athletes.
For more on how you can join our B.E.A.S.T. program and get unlimited strength, speed and agility training, an unlimited Lifeletics cage membership, and develop a winning culture, call us immediately to get started!